Current Specials
Need a quote? Fill out our online Request A Quote form and receive a call back within 15 minutes with an instant quote! Be sure to check back for current specials.
Introductory Offer:
Save $100.00 on a 2 year Termite and Pest Control Service Plan
Call Now for Details! (866) 430-9801
MORE INFO
Up to $30 OFF a Pest Control, Pet Lovers', or Termite Service Plan or One-Time Specialty Service
or a One-Time Pet Lovers' Service Plus Free Mosquito treatment for just $129
(see August Monthly Promotion)
We are offering a $10 Coupon (call for details) that can be used for the purchase of an initial **termite and pest control service plan, mosquito, stink bug, box elder bug, indoor fly, bee nest removal, pantry pest, fire ants, fleas, ticks, pet lovers, and outdoor party service.
Plus, you can click the $20 OFF tab on our Facebook page, print an additional $20 coupon that can be combined with this offer. Additional discounts are available when you purchase more than one service.
The Pet Lovers' Service performed by our trained technicians includes a thorough treatment of the lawn using the most effective and environmentally responsible solution available on the market today. The tick population is high this year, and with new threats coming out more than ever, now is the time to take action.
With the risk of West Nile and the Zika virus plus the general annoying and irritating bites from mosquitoes, our trained technicians will apply a treatment targeting the areas where mosquitoes are most likely to live and breed. The mosquito treatment is a thorough application to the trees, bushes, and shrubs. It is safe for kids and pets but overwhelming to mosquitoes. You can expect an 80-90% reduction in population for approximately 3 weeks.
Appointments are scheduled "On the Hour" and technicians use GPS to ensure promptness. We appreciate the opportunity to service your home and we look forward to hearing from you. Offer expires on August 31st, 2017. Contact a Southern Pest Control representative and schedule an appointment today 1-866-430-9801.
*$10 coupon does not apply to One-Time Pet Lovers' Service Plus Free Mosquito treatment for just $129.
**Annual service plans include termite inspections, WDI reports and unlimited pest control extermination treatments.
Specialty Services include (Mosquitoes, Fly Prevention, Bee, Hornet & Wasp Removal, Pantry Pests, Stink Bugs, Box Elder Bugs, Cicada Killers, Fire Ant Service,  Outdoor Party Service & Pet Lovers Service).
MORE INFO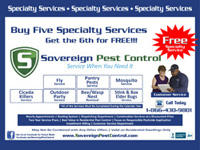 Purchase Five Specialty Services and receive the Sixth service FREE. May not be combined with other offers. Be sure to check back for current specials.
MORE INFO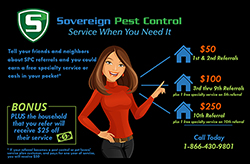 Sovereign Pest Control offers a Double-Sided Escalating Referral Program that will reward $50 to $250 for those who refer a friend, neighbor, family member, acquaintance or client that becomes a Pest Control or a Pet Lovers' Service Plan client. In addition, the homeowner you refer will receive a $25 discount on the purchase of the Pest Control or a Pet Lovers' Service Plan.
Simply call today to speak with a SPC representative (866) 430-9801.
MORE INFO