Flea and Tick Service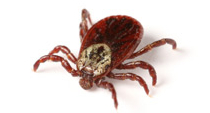 Are fleas and ticks bothering your loving pets? Don't let these pesky critters hassle your animals and spread throughout  your home. Sovereign Pest Control's Flea and Tick Service includes treating your home and yard to eliminate any current infestations and prevents future problems from fleas and ticks. This service is affordable and you will see immediate results. We also have a Pet Lovers special that includes service for fire ants. Call us today at 866-430-9801 for a quote and to schedule an appointment for Flea and Tick Removal.
Don't forget to visit our Specialty Services (mosquito control, outdoor party service, bee nest removal, fly preventative, pantry pest service, cicada killer control and stink bugs & box elder bugs). Be sure to check out our discounts on Specialty Service Options and current specials.
Customer Preparation for Flea and Tick Service
Clear all floor surfaces of loose items such as magazines, toys and other small articles. Pick up articles on closet floors as well as under beds and furniture.
On the day of the treatment, vacuum carpets, rugs, and furniture including under cushions of upholstered furniture. Vacuum wood and tile floors with special attention to grooves and cracks. Pay special attention to wall/floor junctures and all areas frequented by pets. Seal vacuum bag in a plastic bag and dispose outside in a covered receptacle. Clean thoroughly all areas frequented by cats, i.e. table tops, window sills, etc.
Wash or dispose of all pet bedding. Cover aquariums and turn off air pumps.
Remove all pets during treatment. Do not let pets return home until after treatment dries. Recommend that pet be treated by a qualified veterinarian.
Clean areas around dog houses and other outside areas where pets have access. Maximum effectiveness of treatment will be achieved if lawn is cut prior to treatment.
You may see some fleas up to two weeks.
Call Us Today: 1-866-430-9801